Welcome to Dior Cotons de Tulear!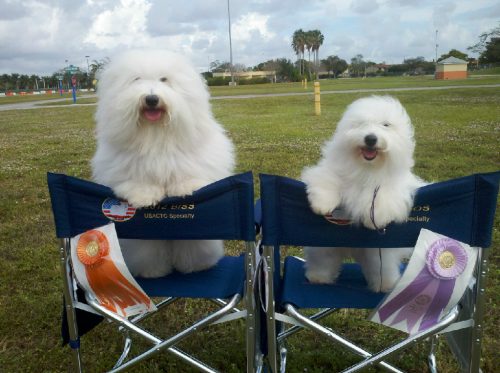 BISS CH. Dior A Votre Sante, CM and sister BOS Ch. Dior's Alegria, CM
USACTC Specialty 2012
#1 GCH. Coton de Tulear 2016
Look who's winning in AKC…and always Owner-Handled!
Doing the HAPPY DANCE!!!


2016 NUMBER 1 GR. CH Coton
2016 NUMBER 1 Coton Breed Points
Top 5 All Breed
Multiple Group winning
BOS USACTC National Specialty Supported Entry
Bronze GCH. Dior C'Est Si Bon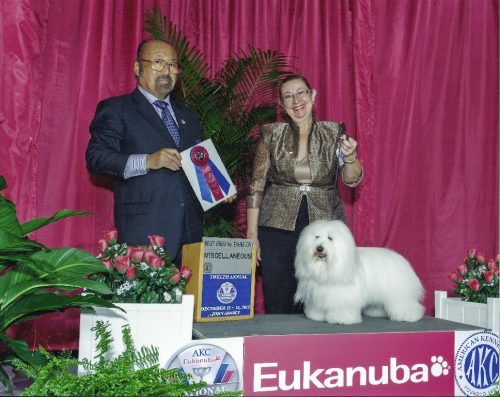 GRCH. Dior A Votre Sante, CM
At the 2012 Eukanuba, Sante won Best Bred By Exhibitor under the honorable judge Mr. Hiroshi Kamisato of Japan.
DIOR COTONS win MULTIPLE BEST IN SPECIALTY SHOWS!




Besito wins 

Best In Specialty Show at the 2013 

USACTC National Specialty


and Group 2 at the USACTC Open Show December, 2013, Orlando, Florida
Besito – Grand Champion Dior's Besame Mucho Morninglow, CM, Bred by and co-owned by
Denise & Peter Simenauer, Owned by Leslie and Emilio Machado

Multi Grand CH. Dior A Votre Sante, CM
Sante wins 2 Best In Specialty Shows
May 2013 GLCTC Regional Specialty

Sante is the first Coton to win a Group 1 in AKC!
Grand Champion Dior A Votre Sante, CM, BISS
Our Sante wins Best In Specialty Show at the USACTC 2012 Specialty!



Grand CH. Dior A Votre Sante, CM


Judge Miss Virginia Lyne

To find out more about Dior and the accomplishments of our Cotons, please visit the More About Us page.
Winner of the 2013Lopatin Award for the Number ONE Coton de Tulear in the U.S. as ranked by USACTC

Number 1 Coton De Tulear in AKC points 2012 

BISS 2012 USACTC Regional Specialty

BOS in Specialty Show at the 2012 USACTC National

First AKC Certificate of Merit for any Coton de Tulear!!!

Multiple BIMISC

Best Bred By Exhibitor – Eukanuba 2012 and 2013
Denise & Peter Simenauer are the proud owners of Dior show dogs.  Denise and Peter have been breeding and showing top dogs since 1974 and have loved the Cotons for more than a decade.  They have bred and shown top dogs throughout the world breeding a Best of Breed Winner at the 2005 World Dog Show, Best of Breed Winner at the Westminster Kennel Club Show and Best of Breed Bred By Exhibitor at the Eukanuba Invitational. 
Choosing to add a Coton de Tulear to their showdogs was not done lightly and was not done until a space was available on their pillow!  Since 2003, they have been enamored with the breed and tell everyone they know about the wonderful qualities of the Coton.
Denise is an AKC and UKC judge, past multiple term board member and Breed Education Member of the BCA, past Board Member of the USACTC and USACTC Code of Ethics Breeder.  Denise was the co-chair of the BEC/Standard Committee which wrote the AKC standard for the Coton de Tulear.  Denise was the chair of the BCA National Specialty 2013 in Denver, Colorado.  Peter is also an active dog enthusiast being a member of the Kalamazoo Kennel Club and past Show Chair of the BCA National Specialty.  Both Denise and Peter take pride in their breeder-owner-handler accomplishments.
Denise and Peter believe that breeding stock should only come from champions of the show ring and that breeders should strive for quality, not quantity.  All of their dogs are raised inside their home, not kept in crates or kennels and enjoy traveling with them in their motor home and staying at their homes in Fort Myers Beach & Cape Coral, Florida.  Most importantly, they do not believe that breeding dogs should be done for an income.  Rather, they believe that breeding dogs is done for the passion of preserving the breed, adherence to International Standards and breeding a truly breathtaking Coton that will live a long and healthy life as a beloved family member.